List of apartments
Fast contact: +48 22 635 38 38 / +48 22 635 93 14
---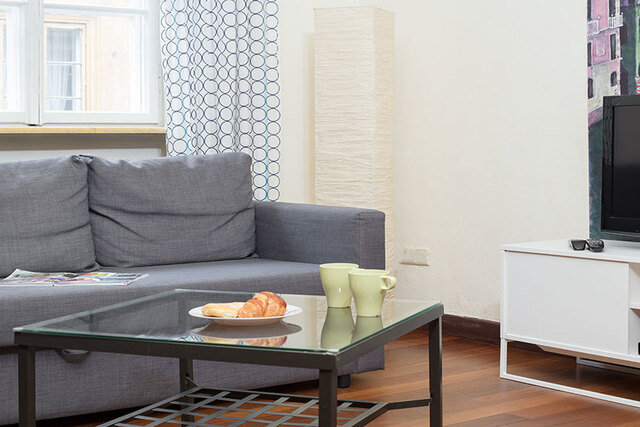 See details
price from: 310 zł
ul. Świętojańska, Stare Miasto
Type: 2-room (1-4 people) - Old Town
Number of rooms: 2
Living Space: 55 m²
People: 4
Floor: 2
Rating: (4.6/5 | 44 )
---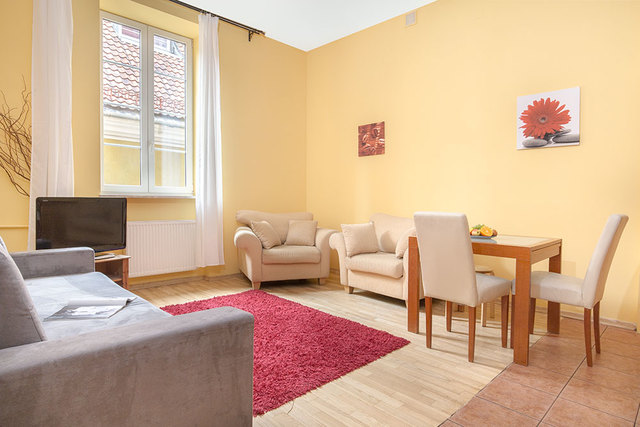 See details
price from: 310 zł
ul. Świętojańska, Stare Miasto
Type: 2-room (1-4 people) - Old Town
Number of rooms: 2
Living Space: 50 m²
People: 4
Floor: 2
Rating: (4.7/5 | 25 )
---
Is Warsaw Old Town a good location for accommodation?
If you want to get to know the charms of the largest and frequently visited city in Poland, which is Warsaw, it is worth ensuring that our accommodation is somewhere near the Old Town. Because it is definitely easier to later plan a city tour, take advantage of the rich cultural or restaurant offer, but also relatively easily go to a business meeting. However, when planning a stay and overnight stay in the capital and with the desire that it is close to the Old Town, it is worth considering the offer that Capital Apartments has for you, offering apartments and accommodation in them. They are located in the very center of the city and provide exceptional comfort and freedom of movement.
What accommodation options in the center of Warsaw can you find?
Warsaw, being a thriving metropolis, offers many different possibilities of finding accommodation and only the wealth of the wallet or likings and preferences will be the only limitation in this regard. We therefore have the opportunity to take advantage of many suggestions. Accommodations in Warsaw Old Town are primarily hotels, hostels, apartments and various types of accommodation. For our part, however, we would like to encourage you to take a look at such solutions as Old Town Apartments offered by Capital Apartments. It is an attractive proposition in every respect. It gives full comfort and great freedom of use, and at the same time it is perfectly located in the very center of Warsaw. It has a huge advantage over other offers, providing rich equipment, high standard and many other amenities.
Why are Old Town Apartments an interesting alternative to hotels?
Warsaw offers guests and travelers many hotel spaces of a very different standard. However, you will always feel like another client and guest there, and not someone special as in the case of renting apartments from Capital Apartments. It is here that you will be able to feel the uniqueness of the offer and a fully personalized approach to each client. The Old Town Apartments in Warsaw will allow you to make your stay in the capital a special time, spent in perfect conditions and, at the same time, in an almost homely atmosphere. No hotel or other type of accommodation will provide you with such comfortable conditions and the feeling that you are staying in your own apartment.
What makes the apartments attract crowds of satisfied customers?
There are several important factors that make the Old Town apartment rental unique to Capital Apartments. First of all, they are well-equipped and fully equipped places, with the comfort of the best hotels, and at the same time full of freedom and discretion. You will not find clichés and routines here, and every customer will feel what it means to take care of their needs and meet their expectations. We offer rooms that are wonderfully and tastefully arranged, fully equipped, including a kitchen. You will find peace in them, while enjoying great comfort. Of course, the apartments also have the necessary amenities, such as underground parking and Internet access. We also offer a large package of additional services. All this so that nothing disturbs your stay and overnight stay.
Who is the Old Town apartment rental for?
Due to their versatility, our apartments will fulfill their role both for people looking for accommodation for days, traveling with small children, as well as businessmen expecting good equipment and quick and easy access to the city. Each person will find what they need in our offer. Old Town Apartments are located in the center of Warsaw, offering the proximity of tourist, gastronomic and cultural attractions of the capital. At the same time, their location is also appreciated by people coming to Warsaw for business purposes, seeing how easy it is to get from them to most office buildings or offices.
Is renting an apartment associated with a high price?
It turns out that also in this context, renting old town apartments from Capital Apartments is a great offer. In exchange for a really bargain and competitive price, you get accommodation in conditions that a very good quality hotel would not be ashamed of. Our price offer is structured in such a way that every customer can say that the value for money is at an optimal level. Comfort, a high standard of finish, full and comprehensive equipment, excellent location, a package of additional services and full freedom and discretion make the apartment rental offer extremely attractive. It is difficult to find accommodation in Warsaw at a similar price in such a rich version. Therefore, we encourage you to personally check and verify our offer for renting apartments in the Old Town in Warsaw, even being sure that the level of your satisfaction will be at the maximum level. Our consultants will be happy to answer any questions, making every effort to meet all expectations!
---